Logistics Ptojects Cargo
Whatever your project needs, from single domestic delivery to complex multi-shipments, let AGL do the heavy lifting for you.
Big projects mean big shipments. Whether it's an offshore drilling platform, a power plant, a paper mill or a port development, they all need parts that are too big, too heavy, or too oddly shaped to fit into neat little packages for transportation.
Moving such shipments takes skill, experience and the right equipment – Arabian Global Logistics provides the muscle to shoulder any project cargo movement endto-end.
(Arabian Global Logistics) has the skills and strength that guarantee safe and timely delivery worldwide – even to and from the most challenging and remote locations.
Total logistics capabilities Drawing on our shipping, logistics and marine expertise, we offer flexible total packages for any project cargo requirements in turnkey projects.
We can manage any sized project from single domestic delivery to complex, multi-shipment and multimodal project.
Beyond standard freight forwarding, our complete transportation solutions start from detailed planning through to cost-efficient final delivery with strict Health, Safety, Security & Environment (HSSE) compliance.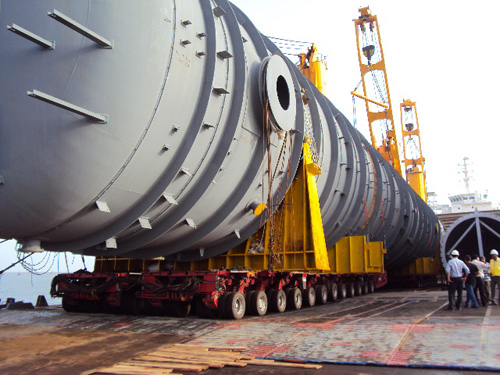 All Copyrights Reserved for Arabian 2016, Designed and Developed by
Logic Designs